Using an i7 has significant upsides and significant downsides for sound quality. But Antipodes tunes the CPU for audio by turning off the features that work against sound quality, and by setting the CPU clock speed at a level that enables it to run at its optimum precision.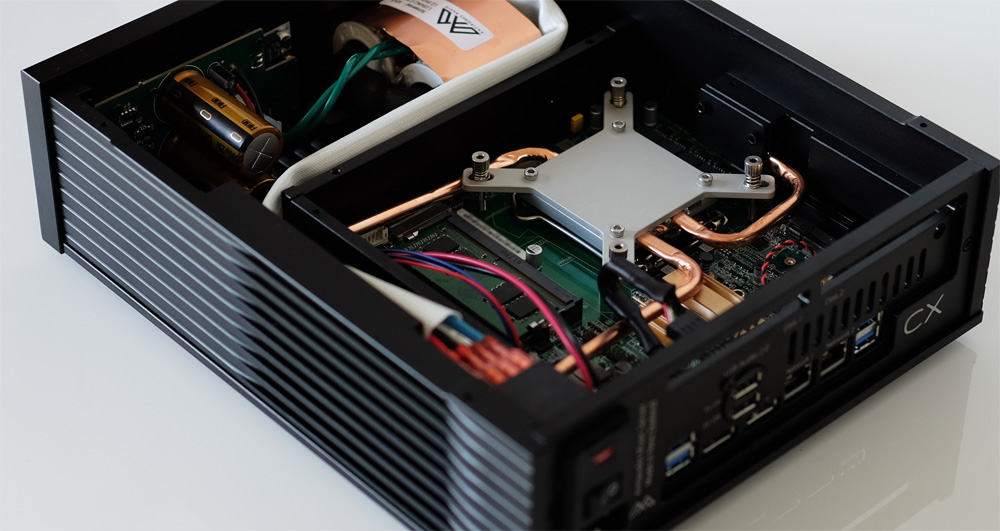 This approach delivers outstanding sound quality and still provides the power to navigate a huge Roon library, and to transcode your redbook files on-the-fly up to DSD512.
For example the CX can transcode CD files to DSD512 using just 1 of its 6 real Cores.
This level of headroom, coupled with a simplified Linux operating system, enables the CX to have a dramatic impact on sound quality when managing the Server application.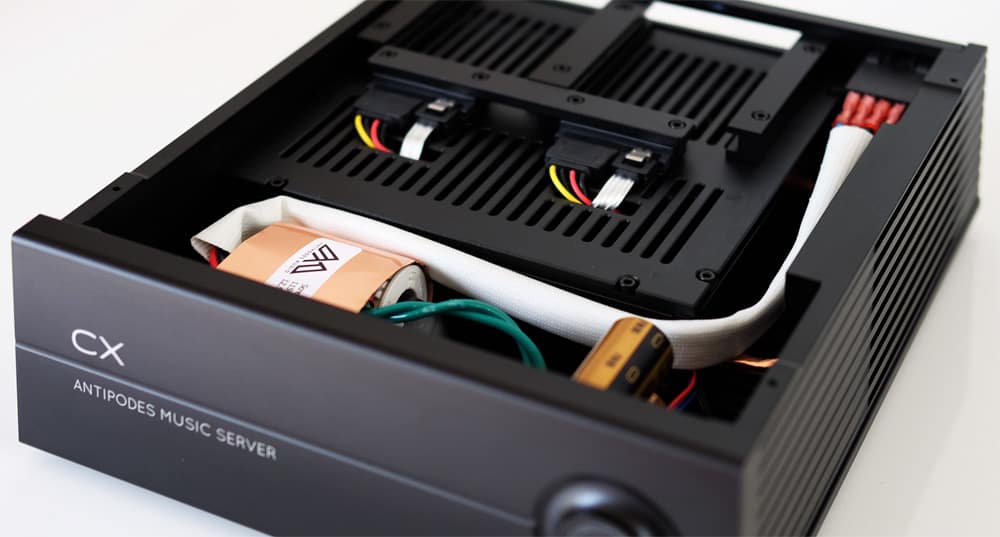 You can start with just the CX, performing both the Server function and the Renderer function, and play direct to the USB or Ethernet input on your DAC.
You can add high quality auto-ripping by adding a P1 Platform. Or you can add further digital outputs (S/PDIF, AES3 and I2S) by adding a P2 Platform.
For a dramatic increase in sound quality, add an EX to the CX. In this configuration the CX is dedicated to the Server function and the EX is dedicated to the Renderer function (CX+EX Solution).
In this configuration, you can add a P1 as a platform to the CX, and a P2 to the EX.
The CX delivers the best sound quality from a one-box solution, but it is also an investment towards our best sounding CX+EX solution where the CX is dedicated to just the Server function.
Because the CX does not have a cooling fan, you should ensure the CX has adequate ventilation if running processor intensive functions, and we recommend you leave the background audio analysis function in Roon at its default settings, or turn it off. If you decide to set CPUs to run at 100% to complete background analysis you should monitor the heat of the CX case.
Functionality
Antipodes Control Panel
Assemble Your Music Library
Integration With Your System
Applications

The Antipodes CX offers a choice of best-of-breed applications, selected via the Antipodes Control Panel.
Music Playback Options
Complete Playback Solutions
DLNA Server Options
DLNA Renderer
Other Playback Options
Reviews
HiFi Advice Review of CX+EX
Christiaan Punter (Founder/Editor of HiFi Advice) first listened to the Antipodes EX as a renderer only, with Roon Server running on his computer. Then he heard how much better the EX sounded when it ran both the Server and Renderer apps. Then we sent him a CX to use as a Server feeding the EX as a Renderer, and he immediately discovered both how important the Server device is, and what a breakthrough product the CX is.
"..it took all of 3 seconds before I loudly exclaimed: "Holy Shit!" The difference was not subtle, it was huge! Wow man, everything the EX does so well was still there, but magnified [by the CX+EX Solution]. The soundstage was now even larger, both wider and deeper and even more enveloping, the delivery more powerful, with even more impressive dynamics."
"There comes a time when a reviewer just lacks the superlatives to describe the latest experience and for me, this is it. This combination is, quite simply, the very best digital front end that I have heard."